Movers of Mountains Community Awards Celebration

Movers of Mountains - Congratulations!
Looking forward to our Second Annual Mover of Mountains Gala where we will celebrate the best of the best in Beaverton!
May 17, 2024!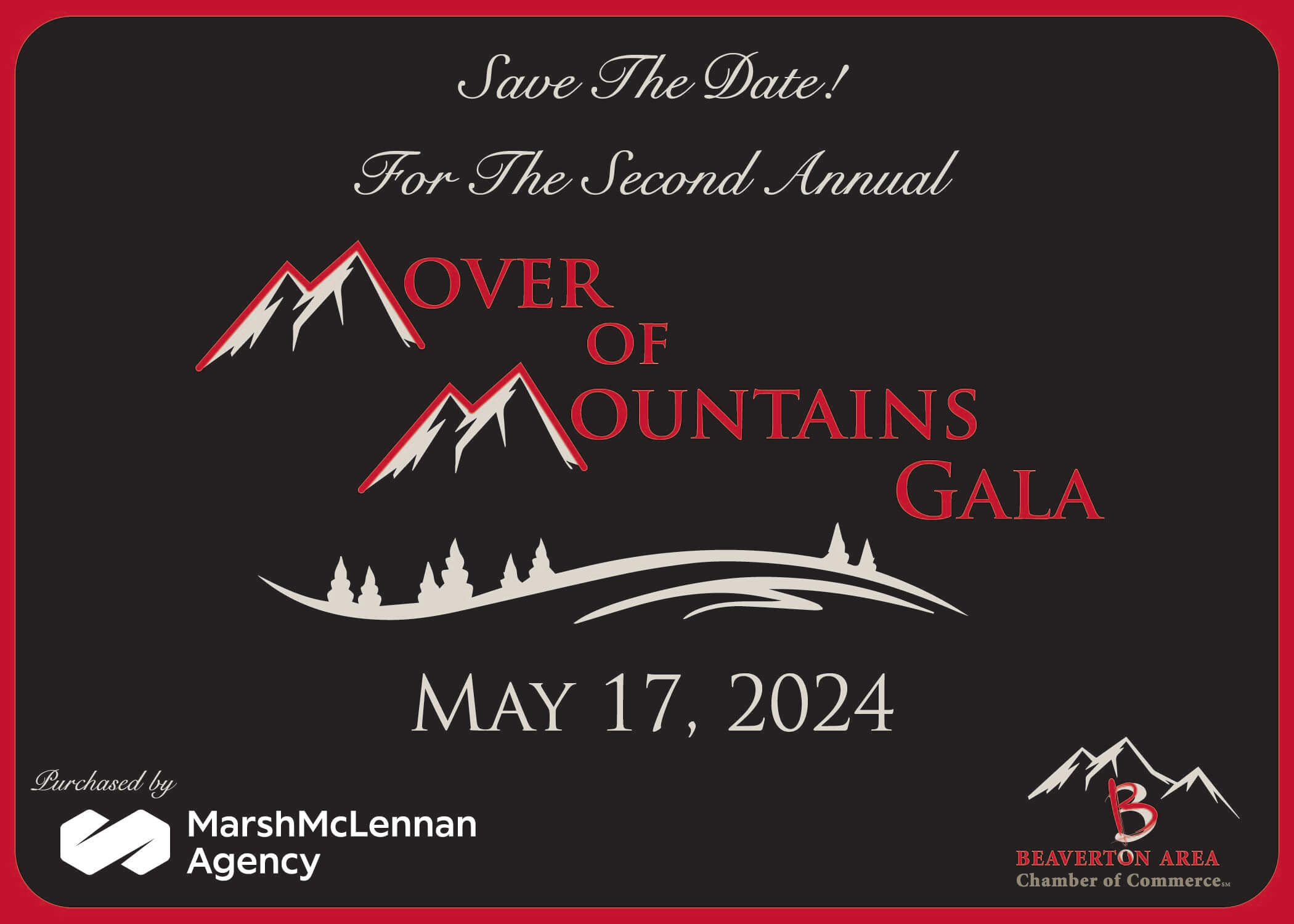 Beaverton's Living Legend - Patricia Reser
When asked to list the nominees membership organization and community activities, the list was long:  Beyond the cultural jewel of the Patricia Reser Center for the Arts which was born out of her dream of state of the art performance and community space, her community activities include
Homeplate for Homeless Youth , Centro Cultural,  MTI, Edwards Center, Beaverton High School, Aloha High School, Westview High School, and more not listed here. Pat supports various organizations across Oregon.
Pat's impact goes back for more than 50 years and she and her family continue to give in many ways to strengthen our neighbors/neighborhood, organizations, businesses and community across Oregon, especially in Beaverton where she lives.
Pat and the Reser Family's contributions are significant and their decisions to support our community have created long-lasting, LEGACY impacts.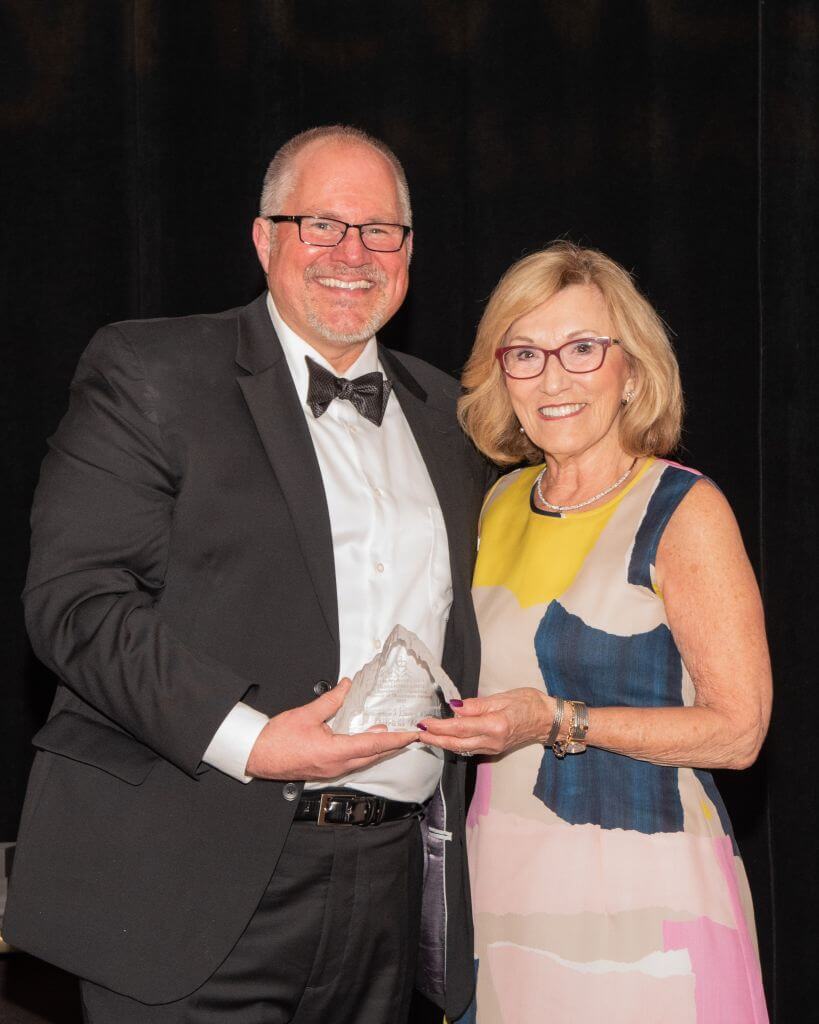 Distinguished Military Contribution -Major Ian Beaty
Major Ian Beaty is an alpha region commander involved in the Recruiting and Retention Command with the Oregon Army National Guard who joined in 2004. Aside from his National Guard dedication, he has a long history of committing his time to volunteering in the community. He exemplifies everything this award stands for. His community involvement list is extensive including but not limited to: American Legion Post 124 member assisting coordination of Memorial Day and Veterans Day events in Beaverton, City of Beaverton Traffic Commission Board Member advising city council on safety issues affecting almost 100,000 residents, Family Promise Board of Directors advising organization on transitional housing resources for families in Beaverton, Volunteering at Beaverton Winter Warming Shelter assisting in bed and meal preparation. More recently, Ian was a member of the Washington County Planning Commission, and volunteered on his wife Lacey Beaty's campaign staff assisting in strategic operations, canvassing, etc. He also helped organize COVID-19 vaccination sites and PPE distribution within Beaverton. Ian should be commended for his community contributions beyond his military service and is exceedingly deserving of this award.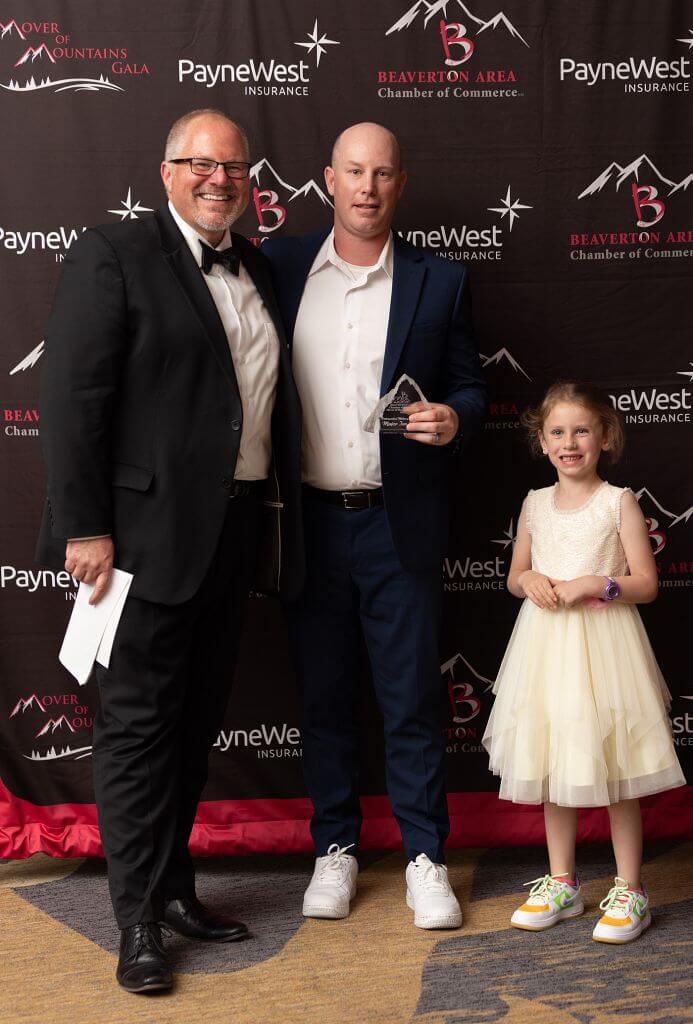 BACC Chamber Member of the Year 
Purpose: Recognize a Beaverton Area Chamber member who has consistently made contributions to the success and welfare of the Beaverton Area Chamber. This is an individual award rather than a business.
Criteria: Must be a current member and in good standing with the Beaverton Area Chamber.
Stephen Smelley: Stephen served the BACC during a time of transition. As our longtime CEO accepted a new opportunity and we searched for the next path, Steve stepped in as interim CEO of the BACC, providing a centering force for the stability of the Chamber during a time of uncertainty. He provided leadership for both the staff and the Board in a unified way. Even after calling a new CEO, Steve continued to serve as Board Chair to provide for a smooth transition. He continues to help the BACC grow through mentoring new leaders and recruiting new members.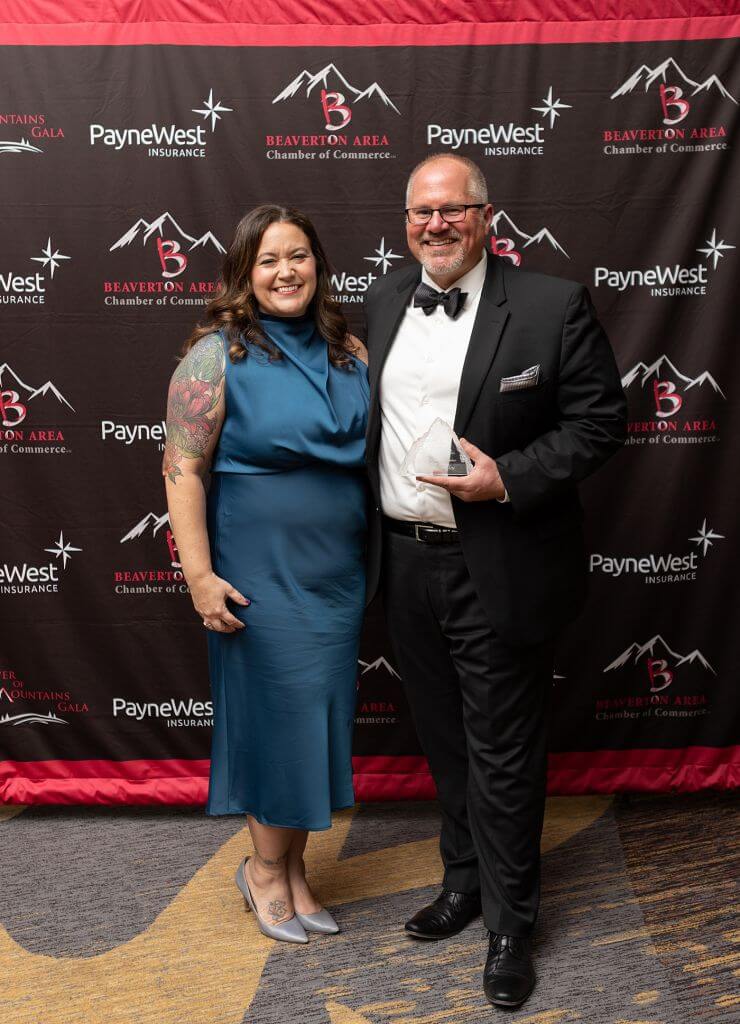 BACC Corporate Partner of the Year Award
Purpose: Recognize a business that has demonstrated a social responsibility to the community to improve the quality of life and raise the standards for living and working in and around Beaverton.
Criteria: The company must be a Beaverton Area Chamber member for at least three years.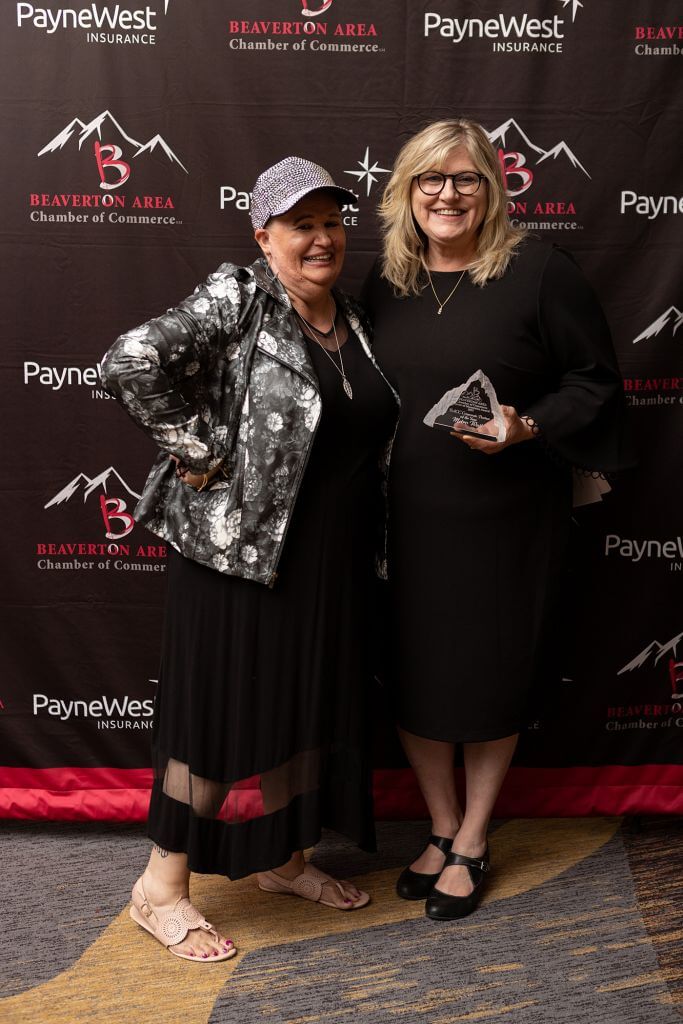 Metro West: Metro West serves Beaverton well with life-saving services.  This hit close to home when one of our own staff needed their services.  They were there to make certain he received the care he needed.  Additionally Metro West serves on our Business Advocacy Council and sponsors many BACC events.  They are truly a part of the fabric of our community!
Beaverton Community Member of the Year Award
Purpose: Distinguish a Beaverton Community Member who shows an unwavering commitment to the Beaverton
community.
Criteria: The individual will be chosen for outstanding achievement outside their business
activity, in a field positively affecting the well-being of the Beaverton community. The most recent achievements
(last two years) should be emphasized.
Monika Piazza: Monika has created a truly unique space in Westside Artwerks that expands the reach of artists in the Beaverton community. This is a collaborative space where artists can sell their works. She is a strong supporter of local Beaverton businesses and shops local with her dollars and shares on social media. Monika is welcoming to all and strives to create a unique space where everyone feels the Beaverton Welcome!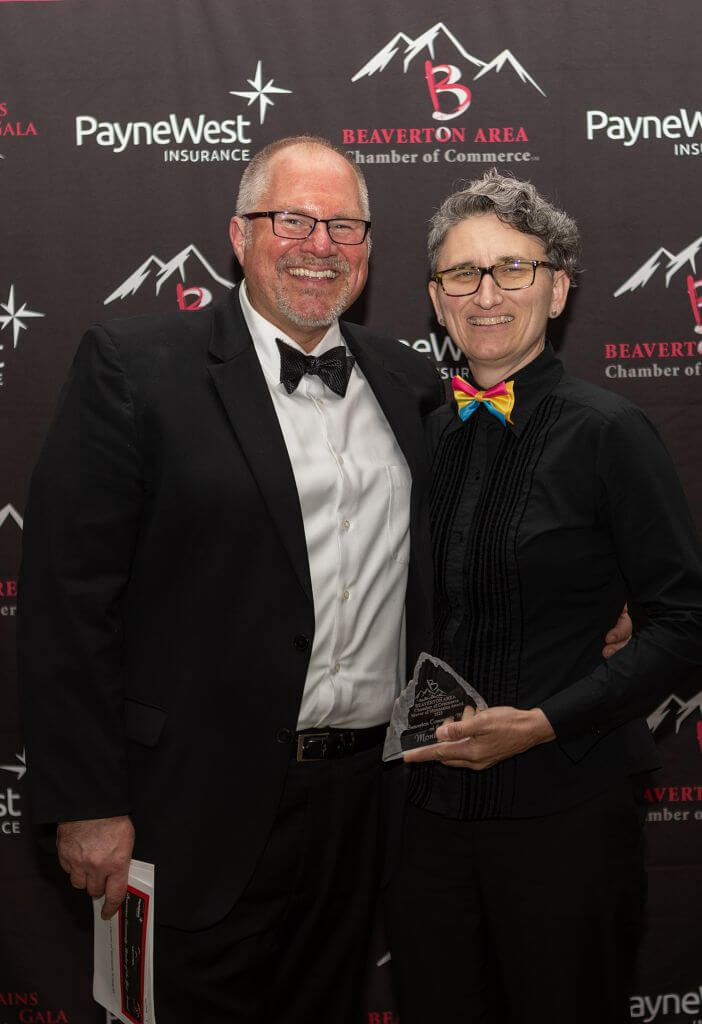 BACC Small Business Partner of the Year Award
Purpose: Recognize a small business (100 or fewer employees) that has made significant contributions to our
local economic growth and honor their successes.
Criteria: The company must be a Beaverton Area Chamber member.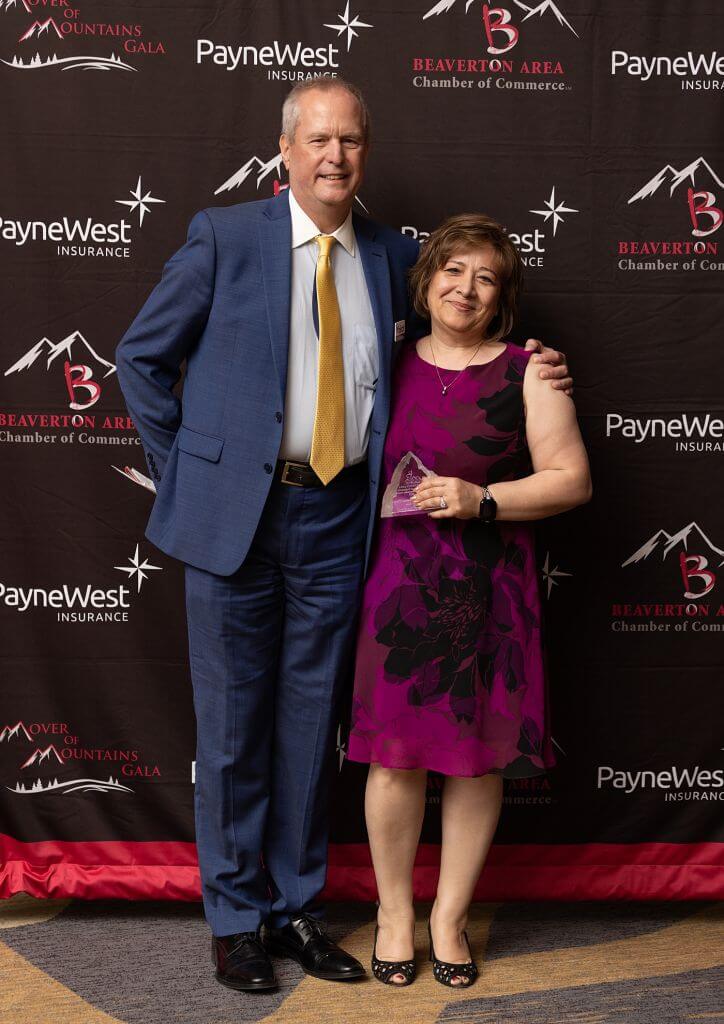 Ava Roasteria: Amy started a coffee company as a gathering space in downtown Beaverton in 2006 after taking over a brownfield site where a former gas station used to be located. She has built a business employing many of the youth in our community over the years starting with those at Beaverton Highschool. She has gone on to add more locations throughout the Beaverton and surrounding area while serving as an active BACC Board Member and for Chair of the Board as well as the CEC and PAC. Ava and Amy deserve this award because of the "community" created by Ava's that is supported by their consistent space, time, and talent contributions.
Public Safety Excellence Award
Purpose: To recognize an individual who goes above and beyond the job they are paid to perform to ensure public safety. Achievements must be in a field positively affecting the well-being of the Beaverton community whether in their paid role or voluntary.
Criteria: A police officer, firefighter, public servant, or any individual who has made exceptional strides to enhance and protect the community.
Officer Nick Jacobs: On August 30, 2022, around 2:30 AM, a report came in of a single-vehicle crash in central Beaverton. The report was a BMW crashed into a tree, rolled on its side, and was on fire. A three-year veteran of the Beaverton Police Department, Officer Nicholas Jacobs responded to the report. Upon arrival he located the vehicle, a 2013 black BMW, rolled on its passenger side, the engine compartment of the BMW was on fire. The BMW had been traveling at such a rate of speed prior to the crash that, when it left the roadway, it took out a nearby tree - detaching the trunk from its roots. Officer Jacobs quickly assessed the scene and determined there was a sole male occupant trapped on the passenger side against the passenger window. The local fire department and EMS had not arrived at the crash. Officer Jacobs knew time was of the essence to prevent further injury or death of the occupant. He knew the fire could lead to an explosion and/or quickly overtake the rest of the BMW, killing the occupant. With no time to waste and despite his danger, Officer Jacobs approached the burning BMW and used a window punch to break the sunroof out. Officer Jacobs had to quickly retreat from the vehicle because of the temperature of the vehicle fire. He retreated to a safe location and yelled to the occupant to remove himself from the burning vehicle. There was no response from the occupant. Despite the immense heat and small explosions coming from the burning BMW, Officer Jacobs returned to the vehicle twice more. On his last attempt, he was able to grab the occupant and pull him out and away from the burning vehicle. As a result of Officer Jacobs's heroic effort, the vehicle's occupant only sustained minor injuries from the crash. Since the crash, family members of the occupant have been in contact with the Beaverton Police Department. They attribute Officer Jacobs's efforts to saving the life of their loved one.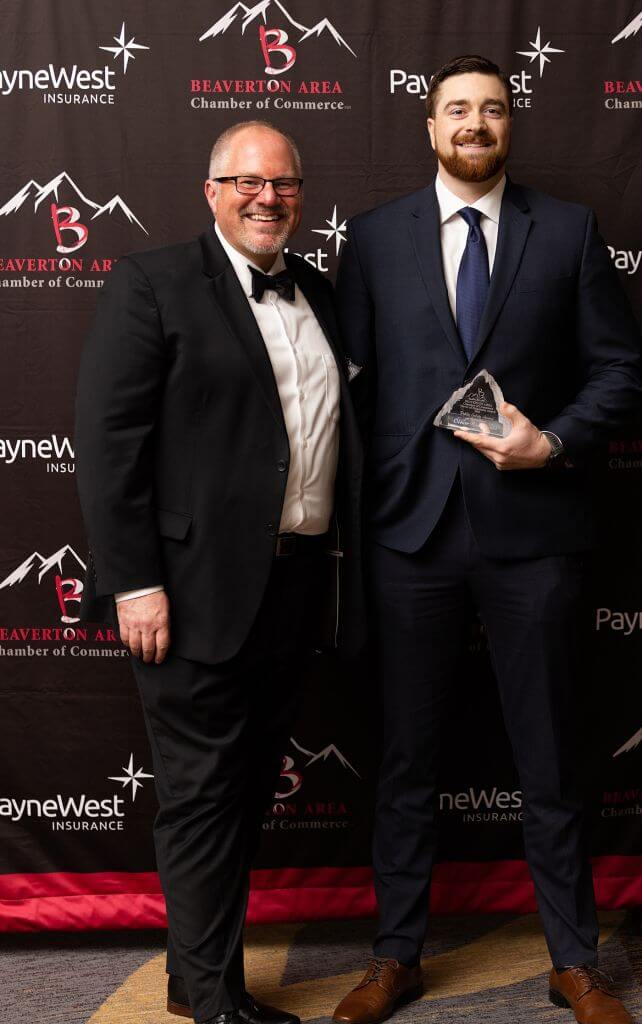 Dedication to Youth Excellence Award
Purpose: To recognize an individual who fosters a positive environment to teach, educate, instruct,
counsel or inspire our youth in Beaverton.
Criteria: Any individual who demonstrates a unique ability to improve or advance the life of a young person
through teaching, coaching, instruction, or mentoring.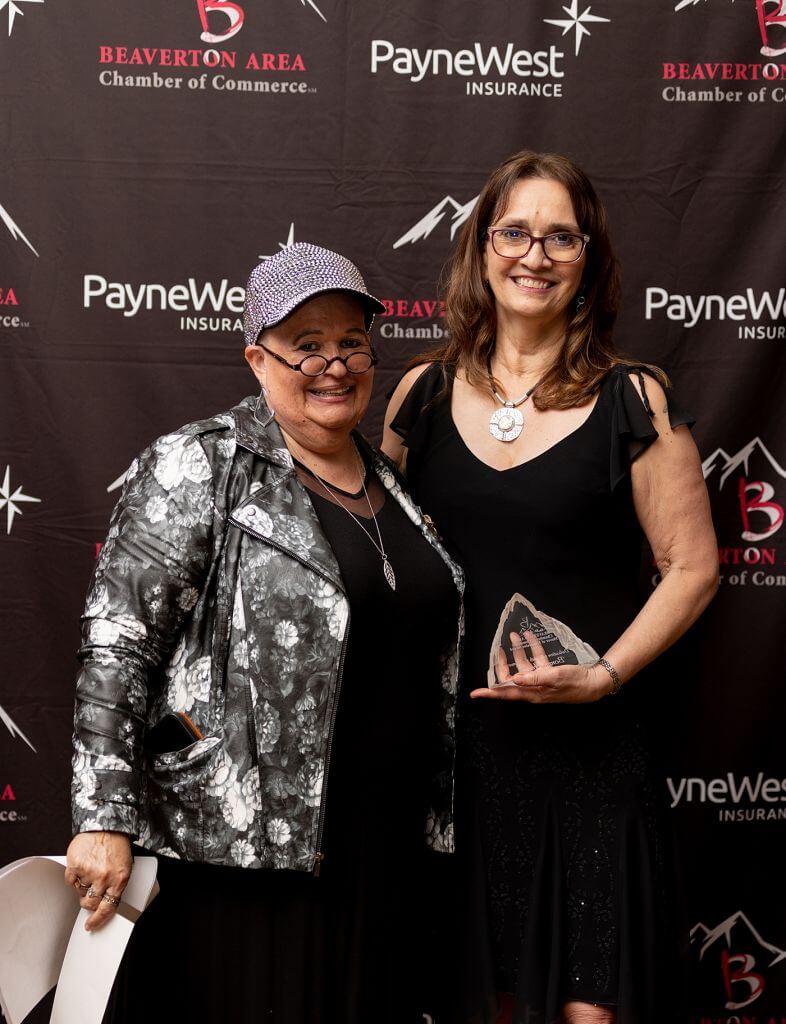 Bonnie Heaton: Bonnie is a high school counselor and the scholarship coordinator at BHS, but moreover she is the biggest champion and hero to each and every student that comes through her door. She empowers each student and challenges them to put forth their best effort, and makes it known that it's ok to not be a 4.0 student. You can only be the best YOU can be, not what others are. Consequently, she is committed to knowing each student and customizes suggestions for them about their future: is it college, is it trades, is it workforce.. she reinforces self-advocacy and makes them feel good about having agency over their choice. I have witnessed her passion as a colleague and also as a parent as she coached my own kids. She is an inspiration to her coworkers, mentoring them to be a light in a student's life. Her passion has no boundaries - she even delayed retiring last year so she could continue as the lead scholarship coordinator and continues to empower youth to pursue excellence - that they WILL have success wherever their post-high school plans take them. She has served our community well and I am certain there are adults in our community now that we are fortunate to have had Bonnie's wisdom (in high school) lead them to where they are today. Bonnie makes you want to be a better person. Our community can surely use more Bonnies!
Distinguished Voluntary Service Award
Purpose: To recognize an individual who gives of their time and talents to enhance the quality of life in
Beaverton. Their work leaves a positive impact on those they help.
Criteria: Any individual who does not receive compensation for their efforts.
Sue Pike: Sue has been a fixture at the Beaverton Area Chamber of Commerce for many years. She has coordinated the Coffee Connections program and worked for and with our Ambassadors longer than most Chamber Partners have been in business or part of the Chamber. She is quick to support Chamber members with her time, treasure, and recommendations. Beyond the BACC Sue volunteers with her church, the women's club, Ising Choir, the Garden Club, and more!  Sue always has a smile and has never stopped giving to our community in every way she can.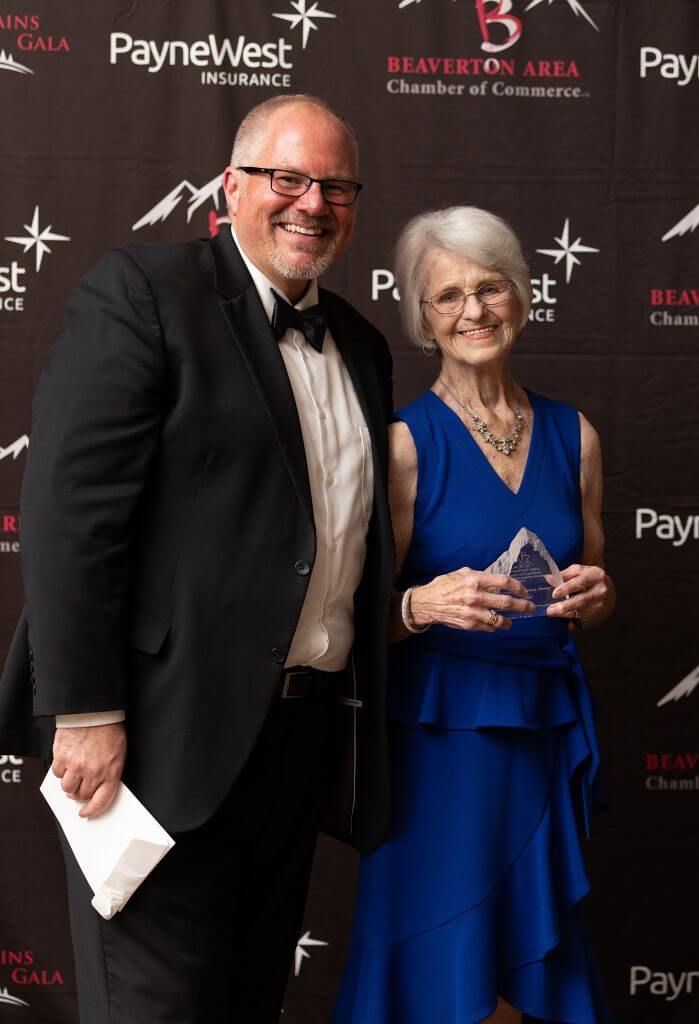 Purpose: Recognize a young Beaverton resident who shows great commitment to the city as well as contributing
to the city's future generations to come.
Criteria: The young person will be chosen for portraying an exemplary achievement in the community. They
could either be an excellent student who volunteers much of their time to help community members, or they
portray a skill that shows great skill and ability through hard work and dedication. Either way, they would "make
the city proud" and we want to recognize the future generations that will continue to build up Beaverton in a
positive way.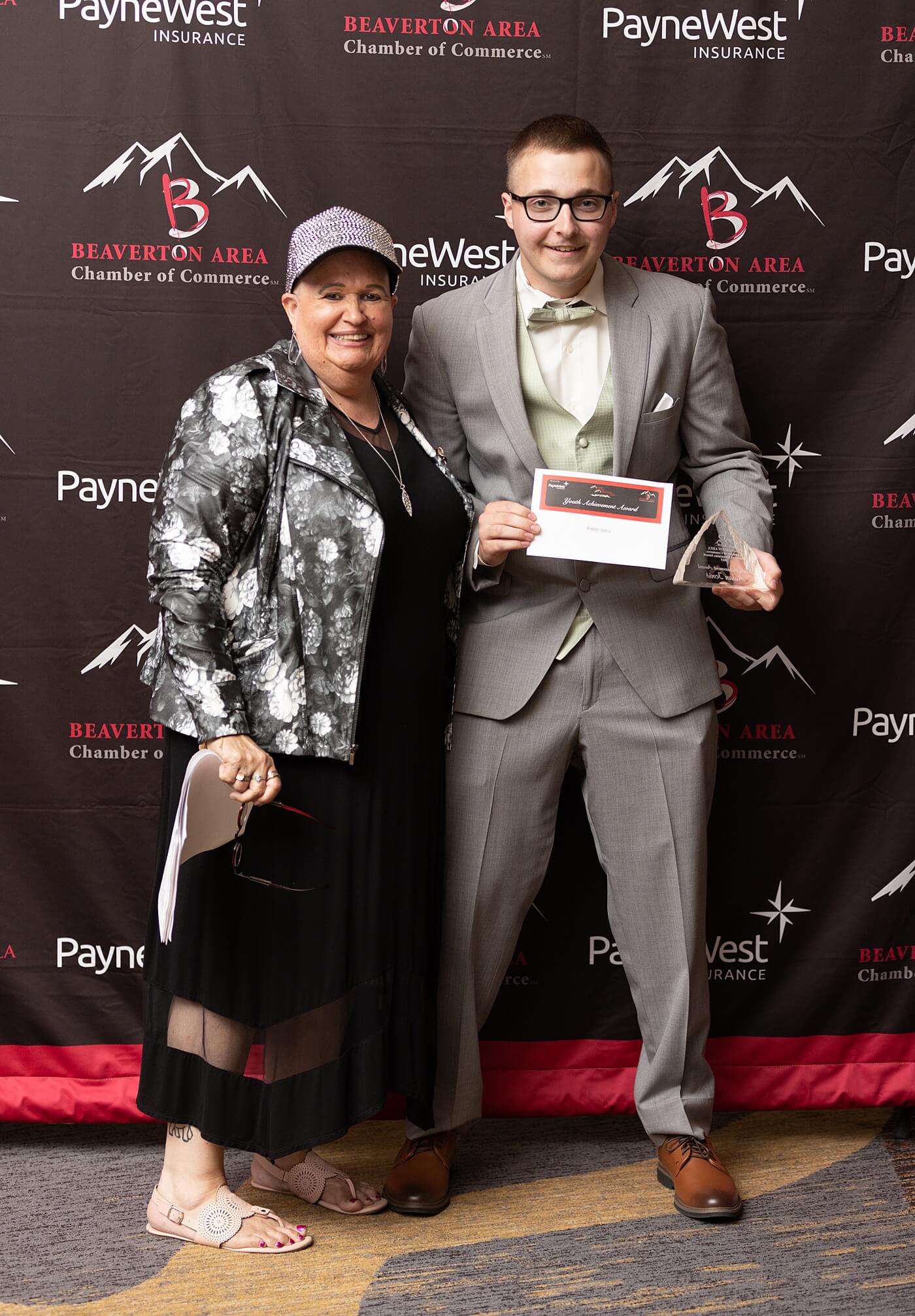 Aidan Ionis: Aidan is a Mountainside High School student who is extremely dedicated to helping the Homeless. In 2021 he began his own initiative to create "giving bags". He started donating snacks and hygiene products to the homeless community, even taking the streets on foot to personally deliver the bags. He has a go fund me and has been featured on KGW8 in 2021. He donated $500 that he collected to 'All Good Northwest'. He is a kind and determined young man, he has a heart of gold and he is passionate about giving back and making a difference in the homeless community.