About Leadership Beaverton
Leadership Beaverton is an intensive program devoted to strengthening and educating our community leaders - emerging and experienced individuals.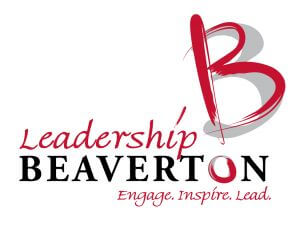 Leadership Beaverton Mission
To engage a diverse network of citizens and business leaders that are inspired and empowered through education and awareness to take action to improve their communities.
Leadership Beaverton Vision
Leadership Beaverton is dedicated to the belief that everyone has something to contribute to the health and success of our communities. We will create awareness among citizens to inspire them to action. We will cultivate civic leaders and build relationships with stakeholders. By 2020 Beaverton's non-profit and service organizations will have strong leadership on their boards and engaged volunteers. Effective elected officials will serve in government agencies that impact Beaverton, city of Beaverton neighborhood groups, commissions, and boards.
What is Leadership Beaverton?
Leadership Beaverton grew from a desire for more knowledgeable volunteers, board members, and elected officials in the city. The purpose of Leadership Beaverton is to provide training so that better decisions are made in our community. Each summer students are accepted for the program, which runs from September through April.
Students dedicate one full day a month to an interactive community learning experience. They increase experience in presentations and discussions on topics that include Beaverton history, government, human services, and quality of life. When the program concludes, participants have a better understanding of how our community has developed and what needs to exist.
Tuition for the program is $795 (Preferred Chamber Partners) and $895 (Non-Partners) and includes lunchtime meals on each program day.  Scholarships are available to participants who cannot afford the full tuition and whose companies do not provide funding for professional development. Scholarships are usually partial and average $200.
Applications are currently being accepted through August 15, 2023.